Healthcare and Hospital Business Group
---
T he healthcare and hospitals business group is growing rapidly, and certainly is one of the most requiring for a technology to aide and assist daily work. Specifically, there is a need for effective and stable network of information transfer. It supports data storage and retrieval of information from long distance areas in an efficient manner, including retrieval/storage of patient healthcare records, retrieval of digital x-ray films, or blood test results from related departments, all through an effective information management and quality data storage. With a constant increase in number of patients, this technology supports online information management system through an easy and instant manner.
We understand all needs of healthcare service businesses, as we provide solutions to fulfill needs in a comprehensive way, including solutions for data storage, data retrieval, and connecting database with governmental departments and other private companies through a high-speed network.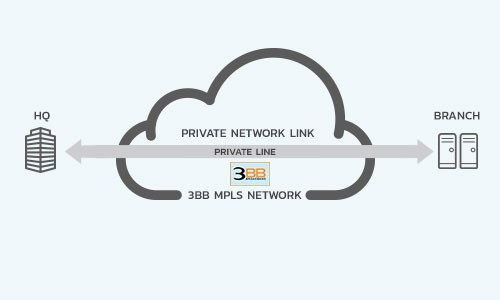 3BB IPMPLS Leased Line
Private network service for medium and large corporation that is looking to connect national branches by giving services via Core Network with the latest MPLS technology (Multiprotocol Label Switching-Virtual Private Networks). It allows your corporation to connect internally through private network as if it is certified the Quality of Service (QoS), as well as, effectively support long-distance usage such as file-sharing (video and voice) or any application program along with 24-hours engineers and service center to serve your corporation.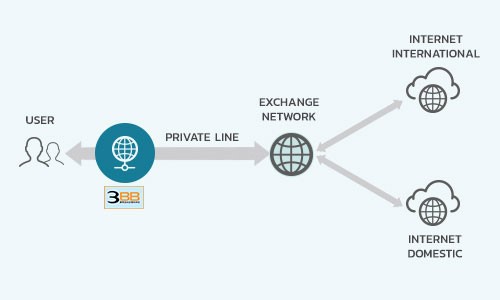 3BB Internet Leased Line
High speed Internet service for corporation that is looking for stability and maximum speed with unlimited amount of sending-receiving information, along with services via Fiber Optic system, which cover Bangkok territory and nationwide. Internet Leased Line provides direct connection (Non-Sharing) both domestic and International with high security system and an all-rounded solution that best serves each corporation's specific needs as well as 24-hours engineers and service center to serve your corporation.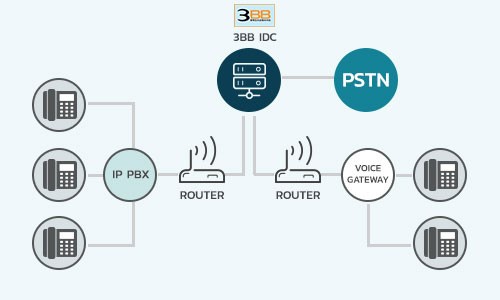 SIP Trunk
SIP Trunk is a new modern telephony service ,like a ISDN-PRI service. SIP Trunk used standard SIP Protocol for communicated on IP network. It work on IP PABX, SIP Server, Call Manager and Hosted (Cloud PABX)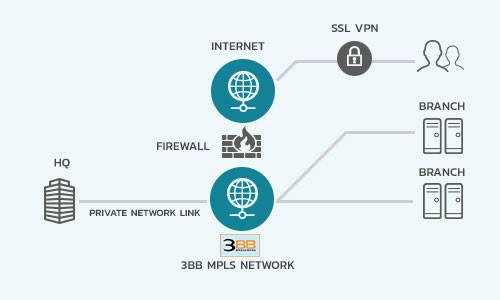 VPN
3BB VPN (Virtual Private Network) a service for connect your office group to access resource in center office. For use to share or remote any where any time. User can connect to Virtual Private Network by Internet network or directly (Private MPLS Network)
---
---
---